In the past two weeks, a mysterious series of burglaries in our own back yard has left us perplexed. It began with one of my pool shoes. Then a pair of Sherry's garden clogs. The last straw was one of my expensive leather Ecco sandals.
Our patio footwear was disappearing at an astonishing rate.
We have mentioned before that our new home abuts an open space that is rife with flora and fauna. Most notably and perhaps notoriously: coyotes.
We've seen one lumbering home in the morning, no doubt after a hard night's work. We hear them often in the wee hours, as they trot through the neighborhood, calling to one another. We've also noted that they are inclined to use our yard as a thoroughfare, where they leave us prominent presents in the form of scat.
It turns out they also believe they are entitled to help themselves to our shoes.
Four-legged foot-fetish fiends
It didn't take much research on the Internet to find out that this is a real thing. They have been caught on security cameras doing the dirty deed.
We imagine our thief with a den lined with his or her favorite footwear from the neighborhood. Our own Imelda Marcos.
And we might be right, since there has been a very similar case with a cousin canine in Germany: A fox was caught with over 100 pair of shoes.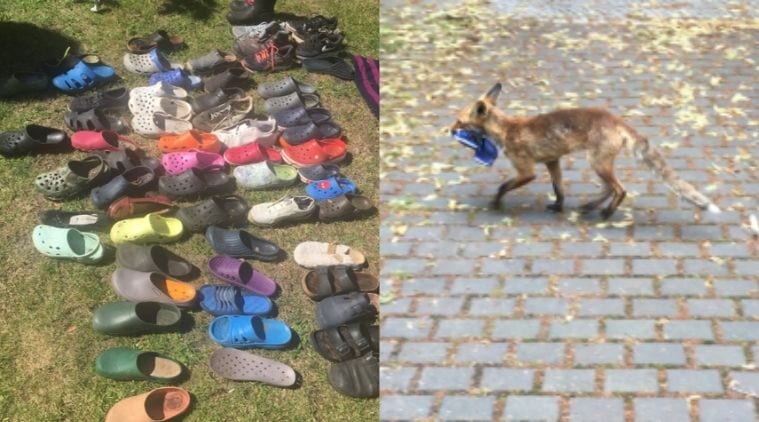 That guy was very fond of Crocs. His long-distance relatives in Japan had an affinity for leather sandals. We were an easy mark in this international crime ring.
What do they do with these prized possessions? The theory is that, just like dogs, coyotes and fox teeth as pups. So they are searching for material that has some give in it. No doubt the scent of humans attracts them in the first place. Old shoes may be malodorous to humans, but these critters love the smell.
From now on, we'll be keeping all our outdoor shoes and sandals indoors.
Oh, by the way, if anyone is in need of one right sandal and/or one left pool shoe, size 9.5 men's, just let me know.
---
This article may contain "affiliate links," meaning at no additional cost to you, the author potentially receives a commission should you click on the link and then make a purchase.